Ben Macpherson
MSP for Edinburgh Northern and Leith
It's a huge honour and a privilege to represent Edinburgh Northern and Leith in the Scottish Parliament.
I have been working hard since the day I was elected as a Member of the Scottish Parliament to serve and represent everyone in our constituency.
I will consistently work constructively and purposefully to make our area better and to contribute positively to our national democracy.
If you have any queries please do not hesitate to contact me.
I am here to work for you.
- Ben
Thank you to constituents for your correspondence, patience & collective efforts to reduce the spread of #coronavirus & support others in our communities. My team & I are working to help as much as we can via 📧 & 📞01316000134.

👇&👉 for info. & advice: https://www.gov.scot/coronavirus-covid-19/.
Twitter feed video.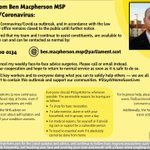 Some are demanding we have exact same biz support as rUK. Do they want us to remove
-hardship scheme for fishermen, fish processors & creative arts
-100% relief for aviation
-£10k grants for many more small biz
-freeze on biz rates for every property
Cos👆🏼only exists in Scotland.
Load More...
In the last weeks there has been a very inspiring outpouring of community spirit across Edinburgh Northern and Leith, with neighbourhoods and communities organising themselves to help others. My team and I have also been grateful to receive so many emails from people volunteering to help others - and we've been liaising with local organisations and Volunteer Edinburgh to facilitate putting kind offers to help together with those requesting help. Thanks to everyone for all you've done so far and now there's a simpler way to register as a volunteer if you'd like to. Today The Scottish Government has launched an overarching, nationwide appeal to help people safely volunteer in their community. Thousands of people have already signed up via Ready Scotland. Whether it's practical or emotional support, there are lots of ways you can help if you'd like to - find out more and sign up at readyscotland.org/coronavirus/. #StaySafe, #StayAtHome and please follow the latest health and social distancing advice: www.nhsinform.scot/coronavirus. Thanks. ... See MoreSee Less
Play
Hi Ben and all, just to let you know there's a Coronavirus support FB group for EH5 residents, connecting neighbours so that they can help each other out with peer-to-peer support in these challenging times. There's also a whole lot of info about all the support services being offered by the amazing community organisations in the area. It would be great if you came over and joined. www.facebook.com/groups/supportEH5/
Load more
My drop-in advice surgeries are temporarily cancelled due to the COVID-19/Coronavirus outbreak.
My team and I continue to assist constituents and can still be contacted as normal by
email: Ben.Macpherson.msp@parliament.scot or by phone: 0131 600 0134
(Temporarily Cancelled) Every Monday
5pm to 6pm at
Leith Library,
28-30 Ferry Rd,
Edinburgh
EH6 4A3
(Temporarily Cancelled) Every Friday
4pm to 5pm at
Royston Wardieburn Community Centre,
Pilton Drive North,
Edinburgh
EH5 1NF
Royston Wardieburn Community Centre
FROM MY BLOG...
My thoughts on a variety of topics. Usually published as a column in our local magazine, the Leither.
Ben Macpherson's Constituency Office (Temporarily Closed Due to COVID-19 Outbreak):
34 Constitution St,  Leith,  Edinburgh,  EH6 6RS
Data Protection:
The office of Ben Macpherson MSP processes any personal data you send under the requirements of the General Data Protection Regulation (EU) 2016/679 (the GDPR) and the Data Protection Act 2018 (the DPA).
Click here to view this website's Data Protection Privacy Notice.
For further information please contact Ben Macpherson MSP (ben.macpherson.msp@parliament.scot).